One of my goals for the month of February was to finish the little hallway area at the bottom of my newly painted stairs. You may remember I needed to paint the walls, paint the paneling, add baseboards and finish it off with a picture collage.
Here are some of the befores.
Real beautiful, huh? Well I worked on it slowly over the course of the month and I'm happy to say it's all done and looking very finished! :)
I first painted the walls at the top of the stairs with some light tan paint I already had. It's called Natural Linen by Glidden and my whole 1st floor used to be painted with it until my husband talked me into going darker. But after doing these walls I let him know the rest of the house was going back to this color at some point ;)
Then I painted all of the paneling. We had primed it almost 2 years ago and then lost steam. I used Behr's Ultra Bright White in semi-gloss, they sell it ready to use, no mixing required. I decided this hallway will stay white and the paneling in the rest of the basement will get color.
I measured, cut, and installed all of the baseboards with very minimal help from Scott. He only needed to hold the long board in place while I nailed but other than that it was all me, baby! I even caulked afterwards for the very first time!
Boy do the baseboards and bright, new paint make a huge difference!
(please ignore the mess in my office!)
Then I started the hunt for picture frames. I ended up finding enough at Target, Hobby Lobby and Ikea. For all of them I ended up spending about $30. Not too bad for 13 frames! I painted 3 of them with my wall color and stair color to make them work.
Ugh. These pictures turned out horribly. And no amount of editing was fixing them. This is just a difficult area to take a picture of!! Sorry :/
I filled the frames with pictures of us, our kids, and kids that I've babysat over the past 4 years. When I'm babysitting we play all day in this basement area and I want to fill this space with all the happy memories I've made with so many wonderful kids! I didn't have good pics of every child I've sat for but I plan on adding to this wall with more frames and more color as I go :)
So there you have it. I finished 2 out of 3 of my February goals this month. Our coat closet didn't get worked on at all, but Scott dealt with some sickness this month and a trip to Home Depot for plywood never happened :( Oh well! I've just informed him that really that closet needs a lot more than a shoe rack....so we'll see if I add it to March's goals. Speaking of, I need to write that post!!!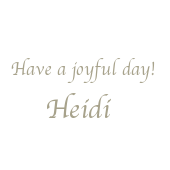 Sharing at:
Serendipity and Spice