Hey guys! My client work has kept me very busy this past month. While I was mostly working on contemporary, glossy black furniture I had an antique vanity to do in white as well. It was a nice change of pace while spraying furniture all day to come inside and use my paint brush with some chalk paint.
I couldn't have been happier with how this piece turned out.
I've seen these vanities around blogland before and never paid them much notice, but when I put the mirror in place and stepped back I was amazed by how beautiful it was. This piece belonged to my client's grandma and after going to college with her it came home and sat in the garage. She had done a nice job of whitewashing it with pickling stain back in the day so the before isn't very bad!!
The mirror was all wrapped up nicely so I didn't feel like taking it out for the before pic. :) Anyways, while the vanity looked pretty good the way it was the years had definitely taken their toll and there were lots of stains and blemishes, so a new paint job was definitely in order!
I started by sanding any stains or uneven spots and then used some wood filler to patch up some spots on the drawers. Then since I was using Annie Sloan Chalk Paint I just got right started with the painting. I had forgotten that I vowed to always prime before using chalk paint in white, it all came back to me during the 3rd coat ;) I ended up needing 4 coats in some areas which was a pain but now maybe next time I'll remember to prime! (not usually needed for chalk paint, but white doesn't seem to cover as well as the other colors)
After taping the mirror with a million tiny pieces of painters tape and painting it I waxed everything with clear wax. I picked up the pink knobs at Hobby Lobby where knobs are now always 50% off their regular price. Yay :)
Peek a boo!
The vanity is going in a little girl's room so when my Lainey got home from school and exclaimed, "Mommy!! This is UH-mazing!!!" I knew I had done good :)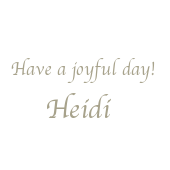 Sharing at:
Serendipity & Spice
Alderberry Hill
Two Yellow Birds
Seven Alive
Miss Mustard Seed
Craft O Maniac
Knick of Time Interiors
Primitive & Proper
Classy Clutter
Thirfty Decor Chick