Hey guys! I'm so excited to share the project I started 2 weeks ago in my kitchen!! It was just one of those things where I thought of it on a Friday night and by Saturday morning was right in the middle of it!
I now have a chalkboard wall!
I have always wanted to frame out a chalkboard area in that section of the half wall to the right of the kitchen table but just never made it happen.
Well 2 weeks ago after finishing my new book, Inspired You, I stood in my kitchen feeling very inspired to do something to my home. I spend so much time on furniture that sometimes I just want to be able to work on my home and my things, you know?
Well after debating making a chalkboard for the hundredth time and wondering what I'd then do with my grandma's cigar table it hit me. Make the whole wall a chalkboard!! I was sooo excited about this idea when I realized I was going to have to get Scott on board. I cautiously made remarks all night hinting that I had an idea I needed him to let me go with and when I finally came clean he calmly (a little too calmly actually) told me he trusted me. When he got home from work the next morning I had already taped, trimmed out, and painted the whole wall with 1 coat!! I couldn't help myself once I realized I had all the supplies I needed right here in the house!!
I made sweet little bunting to hang on each end of the wall...
and I wrote out the fruits of the Spirit below the pass through to the living room.
Scott suggested I write "All that brings joy" above the pass through which at first I thought sounded self obsessed or something but after a moment I realized how perfect it was. It's not written there as an advertisement for my blog, but as a reminder of what my blog is all about. Enjoying all of the things God has brought into my life that bring me so much joy.
My favorite area is in the far corner by the kitchen side door.
These baskets are something I had wanted to do here ever since spying this on Pinterest:
I will share with you tomorrow exactly how I did it and for cheap!!! :)
I'll also share how I wrote everything on the wall so beautifully even though I have the worst handwriting in the world. And no, I didn't hire my sister in law to do it for me, although that thought did cross my mind...
Here's a shot looking towards the other side of the kitchen.
I hope these pictures do it justice, it's so cute in person and I just love walking in my back door now!! I also love the fact that when you walk in the front door everything still looks the exact same as before, you have no idea what fun is on the other side of that wall!! ;)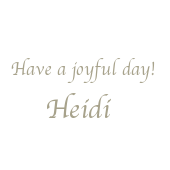 Sharing at:
Happy Go Lucky
Funky Junk Interiors
Alderberry Hill
Nifty Thrifty Things
Thrifty Decor Chick